Little Shop of Stories continues to encourage young readers by offering them a chance to be a member of the Galley Review Club. As members of the club, children pick up advance copies of books for review and send in a short review to be published on the LSOS blog each week.
Atomic Family will be posting reviews from members of the Galley Club over the next few months. Enjoy!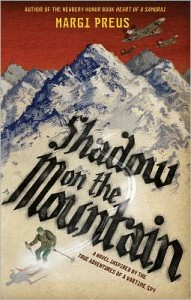 Editor's note: Shadow on the Mountain recounts the adventures of a 14-year-old Norwegian boy named Espen during World War II. After Nazi Germany invades and occupies Norway, Espen and his friends are swept up in the Norwegian resistance movement.
Shadow on the Mountain was a great book. The author has a way of making me excited and scared at the same time. It made me want to live in Norway. It has a pronunciation guide and some quotes. When it is published, it will have some photographs and two maps, but this proof doesn't have them. The only thing I didn't like about it was that it was a bit too long for me (284 pages) and at one or two parts, it was a bit dull. I think the publishers should focus on marketing it to 12- to 14-year-olds.
— Julian D.
Shadow on the Mountain, by Margi Preus, $16.95, Amulet Books. Recommended for ages 10-14. Available at the Little Shop of Stories, 133A East Court Square, Decatur, 404-373-6300, www.littleshopofstories.com.