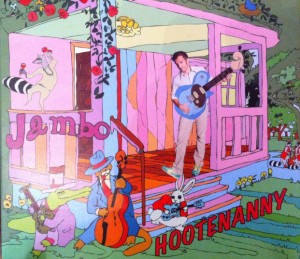 It's always good when the music children listen to contain life lessons. Steve Pierson and his band, Jambo, relate many messages with a mix of musical styles on the new Hootenanny, released today.
Pierson wanted a variety of musical styles on this disc — he's got a little bit of New Orleans, a little R&B, a little funk, a little blues and a little bluegrass. The result is music children will want to sing along with and dance to.
The messages start with "Let's Be Friends." It has an awesome horn line and teaches the importance of friendship: "A friend is the most precious thing to be / the time we spend together is what makes us family."
"Try," with its bluegrassy twang, emphasizes "practice makes perfect, you see."
"Be Yourself" … well, that's pretty self-explanatory.
Then there's the silly songs that will elicit giggles — "Ice Cream Soup," "Space Monkey" and "Don't Play With Your Food" (featuring Pierson's 8-year-old daughter, Lucy McGraw-Pierson; 6-year-old Ivy Bishop; and 9-year-old Fiona Bishop).
Hootenanny will make a great addition to any family's kindie CD collection.
Available for purchase on Amazon.com,
www.cdbaby.com and iTunes.

(Disclosure: Atomic Family is an Amazon associate.)