Little Shop of Stories continues to encourage young readers by offering them a chance to be a member of the Galley Review Club. As members of the club, children pick up advance copies of books for review and send in a short review to be published on the LSOS blog each week.
Atomic Family posts reviews from members of the Galley Club. Enjoy!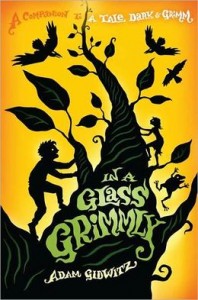 Adam Gidwitz has done it again! Did you know that Jack and Jill are royalty, too? Well, of course, they're not brother and sister, but they are cousins who go on a marvelous adventure. Wait, am I forgetting something? Oh, yes, I will tell you about that in the summary.
Summary: Do you ever think you have the best mother? Because, Jill really did. Not only was she great, she was queen of märchen and she was beautiful. Jack is an imaginative young boy who has a father who wants one thing for Jack: He wants him to be a man and to break his imaginative side. But Jack's dreams wander farther.
Jack and Jill's paths cross and they come upon an old woman who says she can grant their wishes — if they can find the seeing glass. (Jill's wish is to be beautiful, Jack's to be admired by the boys.) So they set out on a quest with their three-legged frog friend. You can learn more about him when you read In a Glass Grimmly.
I love this book. I love Adam Gidwitz's writing because of his grim details and his hilarious narrating skills. You can be in the worst of moods and his books will make you happier — at least that's how it works for me. I also like the way reading his books makes you feel like you've visited another country. You really get the chance to explore. And, if you ever go to that country, you'll know something about it!
— Meyrick
In a Glass Grimmly, by Adam Gidwitz, $16.99, Penguin Group. Recommended for ages 9-12. Available at the Little Shop of Stories, 133A East Court Square, Decatur, 404-373-6300, www.littleshopofstories.com.