Beginning today
Snatch up your Passport to Flavors for the Atlanta Food Truck Park & Market's four-day anniversary celebration. Some of Atlanta's best food trucks will be featured each day from today through Sunday along with live entertainment and a few refreshing beverages. Today's theme is Southern Cookin' and complimentary Arnold Palmers; Friday is Night of the Dragon with Asian-inspired dishes with Lychee Spiked Lemonade; Saturday is Masala Fest with Indian Street Food (early) and Island Vibes with Jamaican-inspired dishes (late); and Sunday is World Beats family fun day. Today, 5-9:3- p.m.; Friday, 5-9:30 p.m.; Saturday, 11 a.m.-3 p.m. and 5:30-9:30 p.m.; and Sunday, noon-7 p.m. 1850 Howell Mill Road, Atlanta. atlantafoodtruckpark.com
Saturday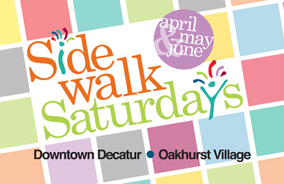 Take a stroll through downtown Decatur or Harmony Park in Oakhurst Saturday for the pop-up art program Sidewalk Saturdays featuring artists, singers, musicians, dancers and other performers entertaining on the streets and corners of the city. Each Saturday April through June 15. 3-6 p.m. Free.
The 7th annual Urban Forest Festival Saturday will feature hikes through the 26-acre Outdoor Activity Center and tours of the Bioponica Sustainable Farming system as well as educational exhibits, guest speakers and wildlife games. 11 a.m.-4 p.m. 1442 Richland Road SW, Atlanta. 404-752-5385 or info@wawa-onling.org.
Don't bother getting dressed before heading out to the International Pillow Fight Day Saturday. Soft pillows and pajamas are encourage for this fun event, loosely organized by the urban playground movement. 11:30 a.m.-5 p.m. Free. Freedom Park, North Avenue and Freedom Parkway. 2013.pillowfightday.com/events/1141/atlanta-ga
Sunday
The whole family can get outside and exercise a bit at Kids Field Day Sunday. For ages 1-11, there will be toddler games, a shoe kick, a wiffle ball throw, tug of war, tunnel races, 3-legged races, laundry basket freethrows and more. 2-5 p.m. $5 per family. East Cobb Park, 3332 Roswell Road, Marietta. 770-591-3160.